Restaurants & Bars
The world-class restaurants at Excellence Riviera Cancun will tempt you with fine dining flavors. You'll feel transported by gourmet cuisine, dramatic settings and world-class service. Italian, Asian, French, Indian, and Mexican dishes are only the beginning of your culinary adventure. Land or sea, spa or vegetarian, expect some of the top dishes on the Riviera Maya with an extensive wine list to pair with your meal. Ten different bars and lounges complete the experience.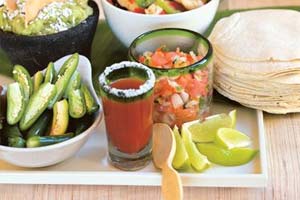 Agave
authentic Mexican food and Tex-Mex favorites
Riviera Cancun is the ideal place in Cancun to sample authentic Mexican food and Tex-Mex favorites like burritos and fajitas--as mild as you like or as spicy as you can handle. Our menu is filled with delicacies from the land and sea, grilled, sautéed or marinated. Your choice of romantic indoor seating or outdoors under the moonlight in our hacienda-style courtyard. Tableside mariachi entertainment completes your perfect Mexican evening.
Open from 5:30 pm -10:30 pm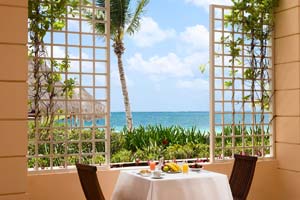 Oregano
Popular trattoria-style restaurant
A popular trattoria-style restaurant serving simple but delicious fare including pizza--from traditional to unpredictable--calzones, pastas and a selection of sweet treats. .
Open from 6:00 pm - 11:00 pm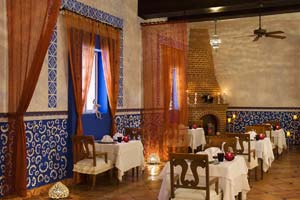 Basmati
dishes of India's North-West frontier
Basmati specializes in the regional dishes of India's North-West frontier, mixing up tangy herbs, spices and cooking techniques against a dramatic and romantic backdrop..
Open from 6:00pm - 10:30 pm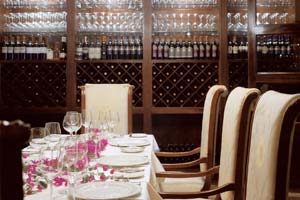 Chez Isabelle
French restaurant, is as alluring as a night in Paris
Dinner at Chez Isabelle, Riviera Cancun signature French restaurant, is as alluring as a night in Paris. You'll feel transported from Cancun to the Left Bank as you choose among savory hors d'oeuvres, mouth-watering entrees and desserts that live up to the French culinary heritage. Enjoy indoor or outdoor seating in a plush and romantic atmosphere. Live music nightly enhances the ambiance.
Open from 5:30 pm - 10:30 pm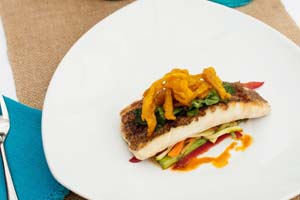 The Grill
exceptional meal
For lunch, The Grill at Excellence Riviera Cancun serves up an a la carte menu of hearty salads, sandwiches, burgers and wraps in a giant thatch-roof palapa. For alfresco dinner, the sizzle of prime steaks, chicken and shrimp searing on an open flame tips you off that you're in for an exceptional meal.  
Lunch open from 12:00 pm -6:00 pm
Dinner open from 6.30 pm-11:00 pm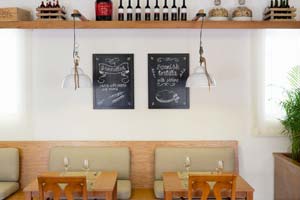 Flavor Market
Small plates deliver big flavor
Try something different for dinner. Small plates deliver big flavor in this cozy gourmet restaurant. Order from an extensive menu of tapas dishes paired with premium wines recommended by our sommelier.  
Open from 6:00 pm - 12:00 am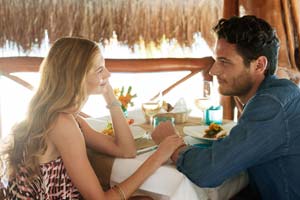 The Lobster House
a place to sample exquisite shellfish dishes
Beneath an open-air thatch-roof palapa that bridges the main pool, The Lobster House serves up tasty a la carte dishes for breakfast and lunch. For dinner, the glow of soft lanterns and the reflection of our meandering pool turn the restaurant into a wonderful atmosphere for all things lobster. This is the place in Cancun to sample exquisite shellfish dishes prepared to your tastes.
Breakfast open from 08:00 am - 12:00 pm
Lunch from 12:30 pm - 3:00 pm
Dinner open from 5:30 pm -10:30 pm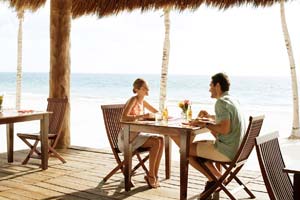 Las Olas
snack grill located on the beach
Enjoy the ocean, sun and a bite at Las Olas snack grill. Located on the beach with selection of fast food, salads, wood-oven pizzas and grilled favorites.
Open from 12:00 pm - 03:00 pm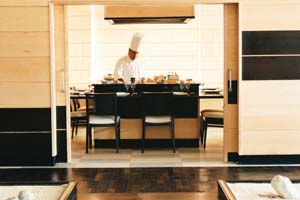 Spice
dishes from Japan, China, Vietnam and Thailand
Step into the world of pan-Asian delights with exotic specialties from Japan, China, Vietnam and Thailand. Enjoy a romantic table for two or casual seating at the sushi bar. If you like Japanese iron griddle cooking, cozy Teppanyaki rooms are the place to delight your taste buds and your senses as talented chefs prepare your meal right in front of you.
Open from 5:30 pm - 10:30 pm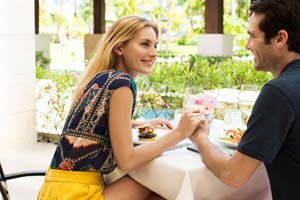 Toscana
Italian Restaurant
Our impressive buffet is the best option to start off the day. Indoubtelly this is the most versatile restaurant offering its international and Mexican buffet. Don't miss our gourmet omelet station, fresh eggs prepared a la minute in front of you or our station of fresh juices and natural shakes with a vast selection of fresh fruits or combined with local vegetables and fruits. The choice is yours.
Offers you a wide variety of selected salad bar, fresh vegetables, dressings and cheeses, an international buffet and our "show cooking" stations with items prepared to your liking.
The variety of the Italian food, ideal to live a romantic dinner with an exquisite Toscana touch and good wine Buon Apetitto.

Breakfast: From 7:00 a.m. until 11:00 a.m.
Lunch: From 12:00 p.m. until 4:00 p.m
Dinner: From 5:30 p.m. until 10:30 p.m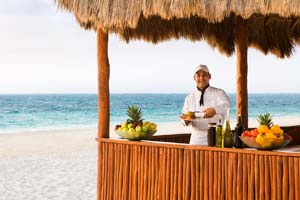 Pool & Beach Service
Gourmet Your Way
Enjoy an extensive selection of snacks, entrees and beverages--with the soundtrack of lapping waves and the scent of salt-air breezes. For an unforgettable evening, amp up the romance with a private dinner on the beach, and see how magical a décor of sand, stars and sea can be.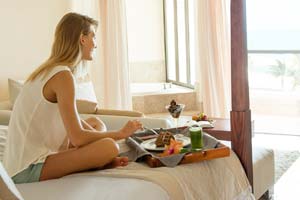 Room Service
Spoil yourself with our delicacies even after midnight.
Treat yourself to breakfast in bed or a picnic lunch on your private terrace. We deliver no matter when the hunger pangs hit. Room service including alcoholic beverages and wine is included in your Excellence Riviera Cancun stay, along with a fully stocked mini bar offering unlimited juices, soft drinks and premium alcoholic beverages.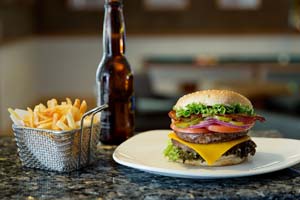 Sports Bar
Indoor Air Contitioned
Feeling the irresistible urge for that mid-afternoon snack? Have a yummy hamburger, a crisp salad, or a tasty sandwich. This is the place to refuel fast and get back to the fun activities! Our Sports Bar is located next to the gym.
Open: 4:00 p.m. to 1:00 a.m.